Parrot World takes you on a journey to South America, to discover ecosystems as rich as they are fragile. Through the immersive Amazonia Trek and Patagonia Trek experiences, you will meet hundreds of wild animals, often threatened with extinction in their natural habitats. 
An immersive wildlife park dedicated to protecting nature
A sanctuary for species conservation
Parrot World works hand in hand with the Parrot Wildlife Foundation, an organisation that supports the conservation and breeding of endangered psittacines and all other species who live in their natural habitats. 
Thanks to the expertise of our animal caretakers and veterinarians, some of the species in the park are also part of breeding programmes overseen by the European Association of Zoos and Aquaria, to prevent them from disappearing completely if they were to become extinct in the wild. 
Animal welfare at the heart of the park's concerns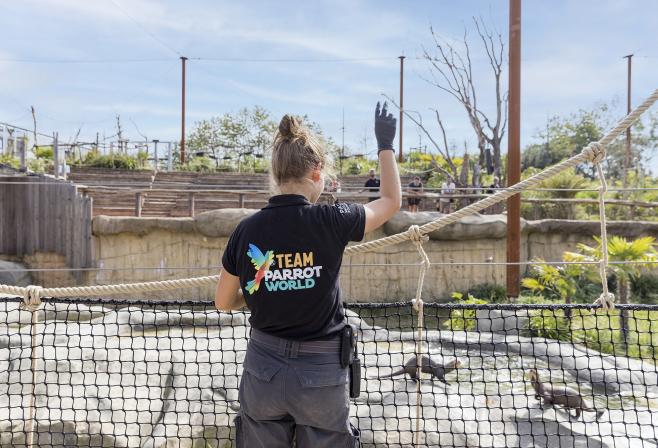 The entire Parrot World team is extremely attentive to the welfare of the species in the park. Our team of specialists has studied the natural habitats of the Amazon and Patagonia in detail to recreate spaces identical to those found in these regions of the world. This makes it easier for the animals to adapt to their new environment and ensures that they are happy on a daily basis. 
The layout of the park has been designed to take the best possible care of the animals' equilibrium. For example, the penguin trail is only accessible to a small group of people at a time and it is prohibited to feed the animals in the park. 
RAISING AWARENESS
Through two fun and informative trek experiences, young and old alike discover the wealth of the South American ecosystem and the challenges of protecting nature in this part of the world. 
PROTECTION
By participating in breeding programmes, Parrot World ensures the survival of species in the park should they become extinct in their natural environment.
SUSTAINABILITY
Parrot World is a virtuous environment, committed to respecting the environment. Over 6,000 trees were planted during the construction of Parrot World.