Getting to Parrot World
Located in the Seine-et-Marne (77), near Marne-la-Vallée, Parrot World is 30 minutes from the east of Paris.
PARROT WORLD
Route de Guérard
77580 Crécy-la-Chapelle
FRANCE
HOW TO GET TO PARROT WORLD
Transport method
BY CAR
30 min from Paris (Porte de Bercy) taking the A4 motorway
20 min from Disneyland Paris
20 min from La Vallée Village and Val d'Europe shopping centres
BY BUS
Saturday, Sunday and public holidays
Bus line  Crécy-la-Chapelle-Chessy. Come easily to the park from the Marne-la-Vallée Chessy RER  station or the SNCF Crécy-la-Chapelle  line
RIDE-HAILING SERVICE (VEHICLE WITH DRIVER)
You can contact our partner VTC Lady Driver : lady.driver@aol.com - 06.44.27.86.52
BY TRAIN
Closest TGV station: Marne La Vallée Chessy (Disneyland Paris) 
From Paris by train: Line P from Gare de l'Est to Gare de Crécy-La-Chapelle
We invite you to take a ride-hailing service or taxi to get to the park from the Crécy-la-Chapelle or Marne La Vallée Chessy train stations
On site
A car park is available close to the Parrot World entrance. Once parked, you can easily walk over to Parrot World, just 300 metres away.


 
FREE PARKING
•    Parking spaces for 600 cars
•    6 bus spaces
•    Parking spaces for bikes and motorbikes
How far are you from Parrot World?
Calculate your route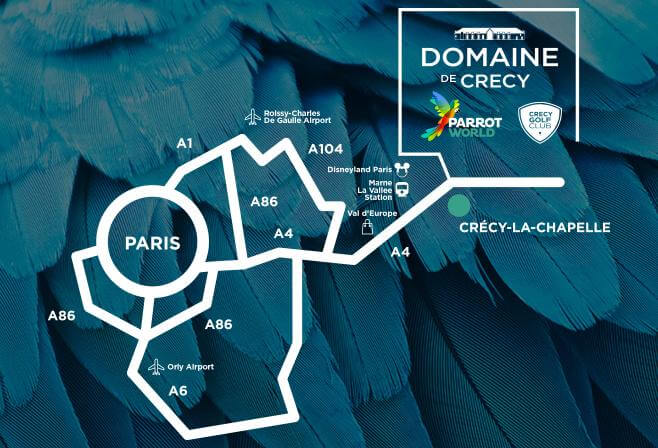 Park access map
 The park is located to the east of Paris, close to:  
Disneyland Paris (20 min)
Val d'Europe and La Vallée Village shopping centres (20 min)
The Château de Vaux le Vicomte (43 min)
Provins, medevial city and UNESCO World heritage site (50 min)
Marne La Vallée TGV station - 

Consult the TGV timetables and book on OUI.sncf
OTHER USEFUL INFORMATION
The visit of the park
HOW LONG DOES IT TAKE TO VISIT THE PARK ?
Our park differs from others by its immersive experience. Visitors will have the chance to enter a space with free roaming animals. You will have to take the time to stop, find and observe the animals. To enjoy the visit, we invite you to regularly look up to the sky and see the flying birds. From our educational animations, "Le Radeau des Cimes" (playground) and "Le Ranch des Enfants" (mini farm) your visit can take up to 2H30/3H.
IS THE PARK SHELTERED OR OUTDOOR ?
There are few possibilities of sheltering at Parrot World. We offer our visitors an immersive experience in our one hectare opened air aviary. We advise you to visit the park according to your weather preferences.
ARE PETS ALLOWED IN THE PARK ?
Pets are not allowed in the park for sanitary and security reasons except guide dogs to accompany visually impaired people.
CAN WE FEED THE ANIMALS IN THE PARK ?
The animals in our park receive a varied and balanced diet approved by a veterinian. For their well-being and out of respect for them, we ask visitors not to feed the animals. Any outside food could be harmful to their health.
IS IT POSSIBLE TO RENT A WHEELCHAIR OR STROLLERS AT THE PARK ?
Wheelchairs and strollers are available to rent at the front desk/ticketing area of our parc.
Safety in the park
FOR THE SAFETY OF OUR VISITORS AND OUR ANIMALS
Children evolve withing the park under the responsibility of their parents or the legal representatives, especially regarding the safety instructions.
It is forbidden to enter the park with alcoholic drinks. Alcohol consumption is prohibited along the route, but is permitted in the established restaurants in accordance with the occupancy permit.
Visiting our park is carried out in a calm and respectful manner for the site and the animals. The use of weapons (including fake weapons), barbecues, balloon games, firecrackers, fires, radios, sirens, megaphones are strictly prohibited.
MOVING AROUND IN THE PARK
Walking is the only way of moving around the park. Bicycles, rollerblades or skates are not allowed in the park.
PRM ACCESSIBILITY (person with reduced mobility)
Parrot World is a park accessible to people with reduced mobility.